Posted by Alice McCall on 28th Oct 2021
Can you believe that we're in October already? In a couple of months it'll be December, and we'll be about to call in a new year. In my mind, we're still in 2016, so to think that 2022 is just around the corner is shocking. What's also amazing is the constant evolving of home decor trends. Some of these up-and-coming trends might not be for you, which is absolutely fine! Redecorating can be expensive, so the most important thing to bear in mind when sprucing up your kitchen is that you like it. After all, it's you that's going to see this room day in and day out, so make it a place that sparks joy, as Marie Kondo would say.
In the coming year, monochromatic palettes are going to go out of fashion and bold, dark colours are going to become more popular. Deep greens, rich burgundys and atmospheric navy blues will be adorning many kitchens - just watch this space!
An incredibly cost effective trend that's coming into fashion is the concept of the "second hand kitchen". Buying retired display kitchens, or second hand kitchens is good for your wallet and the environment, so it's definitely worth having a look around on websites like Facebook Marketplace and Gumtree. Retired display kitchens will likely be as good as new, and even with second hand kitchen sets, it's possible to give them a fresh colour and some new handles.
Veined marble surfaces are going to be a particularly popular kitchen trend. White or creamy marbles will look great with the greens, burgundys and navy tones that are predicted to be big in the coming year. Remember, if you can't afford to replace your countertops, or you rent your home, it's possible to get adhesive marble-patterned contact paper! You can find it in B&Q, Wilkos, on eBay and lots of other places! The beauty of marble contact paper is that if you don't like it, you can just take it off and you won't have lost thousands of pounds.
A really interesting trend that we've noticed is the "kitchen home office". This may have resulted from the WFH trend that was born during the UK's first lockdown; even now places have opened up a bit more, many people are still opting to work from home. If you're the same, we think you should craft yourself a small desk in your kitchen using a set of our shelf brackets.
As we step into a new year, mixing different materials, textures and patterns to decorate the kitchen. For example, think delicately patterned wallpaper, latticework cabinets, brass accents and a kitchen island constructed with dark panelled wood. You wouldn't think this would work, but it does. See for yourself.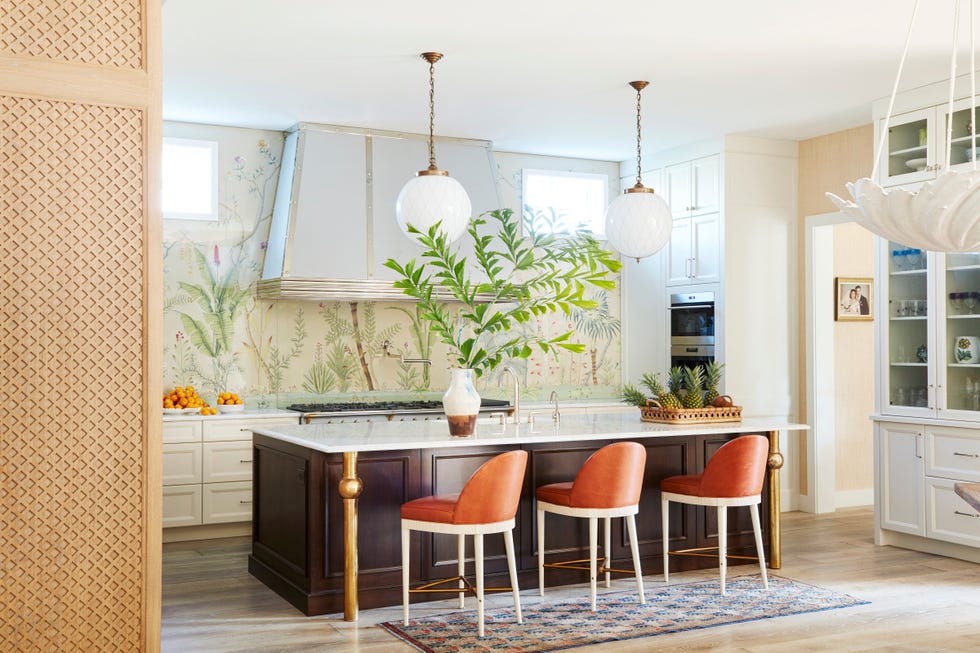 This kitchen is absolutely stunning, and what we think would make it even better is a couple of our brushed brass cup and knob handles.
Last but not least, one of our favourite decorating trends in the coming year will be the increased interest in cabinet design. We are expecting to see a range of new, exciting materials being used to construct cabinets, such as stone or granite. And why is this our favourite trend? Because no cabinet, no matter how beautiful, is completely without handles. If you're fitting new cabinetry in the coming year, whether you need large, chrome-finished band handles or painted ceramic knobs, we have your back.